The Churchillian wisdom "Never let a good crisis go to waste" sums up the past two years of Coloray very well. The music world went through some dark times because of the pandemic in which many artists had to stop working. For Coloray, however, it was the period in which Future Static, his first solo project, came to life. Besides being a music album, Future Static is also a live show and a virtual world. For the latter, Coloray took part in Chronosphere, the unique 3D testing ground of Effenaar Smart Venue that gives shape to the digital world and its inhabitants. Keep reading to know how Chronosphere was essential for Future Static and how Coloray executed this project in 4DR Studios at Eindhoven.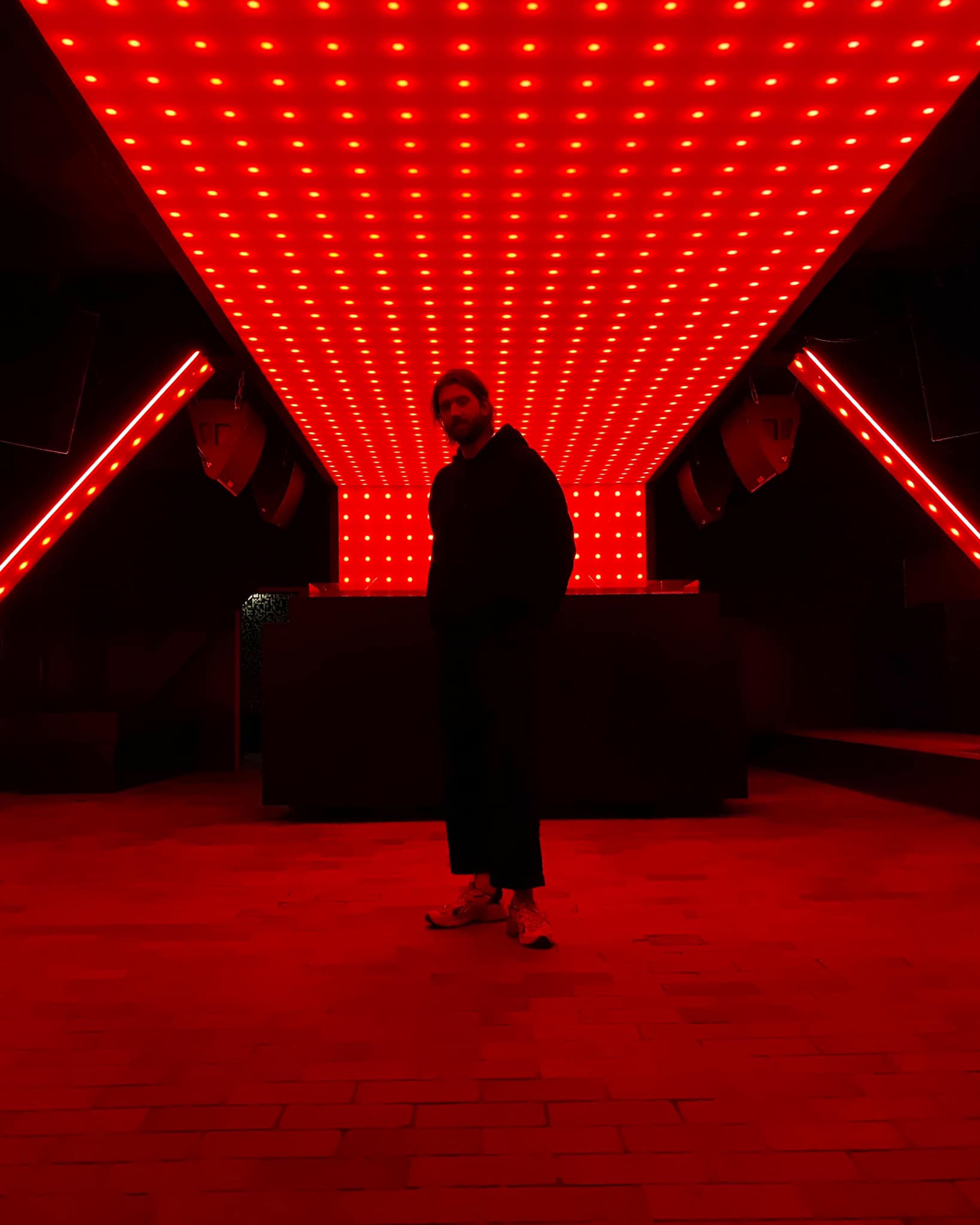 Image Source: 4DR Studios
First Introductions
Coloray's solo journey began in 2019, although dance music fans probably know him as the other half of Tunnelvisions, a beloved dance project that toured Europe in 2017. Coloray combines several disciplines of music and for Future Static, he was involved in the project from start to finish. He did the creation, design, music production, singing, songwriting and execution of this ground-breaking project. His mission is clear: to become the genre-bending, multi-disciplinary artist of the future.
Future Static
Coloray gives his vision of a near-future around the concept of humans and computers creating a new reality where logic and emotion seem to be in conflict. What if humankind fully embraced the computer to create a new reality to escape our real reality? The project consists of three parts, of which the first two have already been launched with verve. The music album was described by 3voor12 as a concept album about online and offline escapism with Underworld-esque progressive house beats and heavy breaks. It immediately earned him a nomination for album of the year. Furthermore, Coloray's live show debuted on national radio on NPO 3FM and had a successful follow-up at Draaimolen Festival and Grasnapolsky, among others. This month sees the 'public release' of the third part; a virtual world in which Coloray puts on three shows in his own unique way. The future already looks bright for this one since the 'closed beta release' has already been nominated for the VR Awards!
Virtual World
Due to the lack of live performances, Coloray was looking for a new way to connect with his audience. He viewed the pandemic's restrictive measures simply as design conditions. He also wanted to be able to immerse the audience in the story he must tell. Behind every album is a world of thoughts, ideas, fantasies, and images, which often remain hidden in the artist's head and are only incidentally discussed. With the virtual world of Future Static, Coloray takes a different approach and sets the tone for the future. The virtual world of Future Static starts in a futuristic-looking main hall where you can wander around. On your voyage of discovery through Future Static, you come across a monolith that gives you access to three shows with a Coloray performance. Each show is linked to a song from the album with its unique visual style. In addition to these shows, Future Static also features a gallery where you can enjoy multiple digital artworks and play various mini-games in an impressive dome.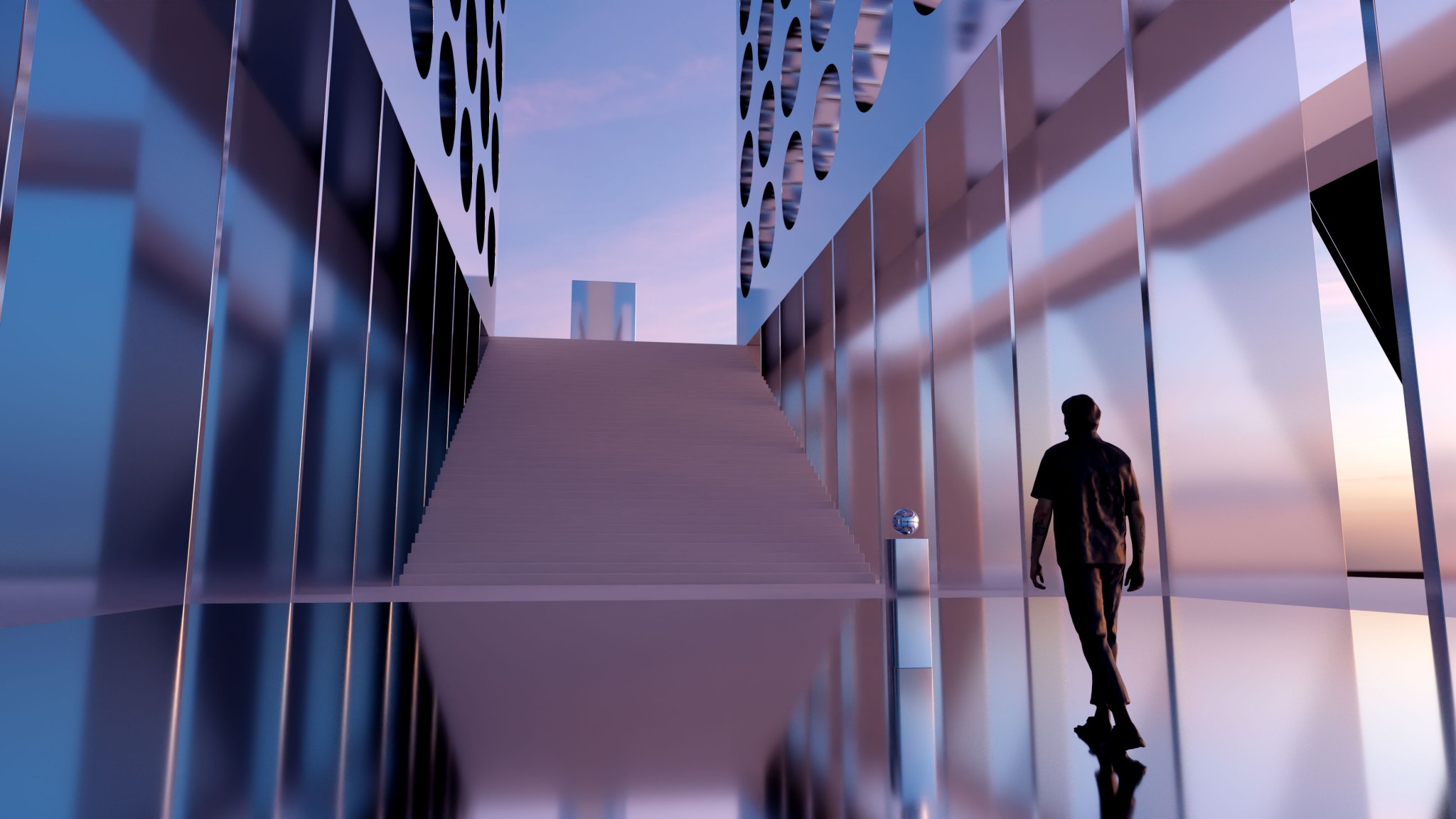 Image Source: 4DR Studios
Chronosphere
There is no show without an artist. That is exactly the missing piece of the puzzle that Coloray found at Chronosphere. Coloray's multidisciplinary background gave him a good idea of what the virtual world of Future Static should look like. Adding himself in full-motion 3D to the virtual world with three shows was however a bridge too far at that moment. But, a meeting with Effenaar Smart Venue and a demonstration of the volumetric capture stage of 4DR Studios offered a solution – Chronosphere was the way to go! Coloray himself looks back on his participation in Chronosphere with fond memories: "Chronosphere offers a fantastic opportunity for organisations and initiatives with a good concept but a smaller budget to get started with volumetric video capture. Without the Chronosphere programme, we would never have been able to get started at this level. It greatly expands the possibilities for independent artists."
Unique Look and Feel
Future Static's volumetric videos stand out because of their unique look and feel. Gaining more insight and knowledge about this was also the main research goal of this project. Instead of producing extremely realistic volumetric videos, a rich collection of colourful, abstract, and visually rich volumetric videos was realised in this project. Another special aspect of this production is the dynamic coupling between image and music. We asked Coloray if he could give us a peek behind the curtain! "We convert music into so-called click tracks. These click tracks give a signal to a spectrum analyser. A spectrum analyser analyses over the entire click track where audio is coming in and where it is not. On the basis of this signal, an ADSR envelope is generated." "ADSR stands for attack, decay, sustain and release. A way of converting the course of the incoming signal into a signal that can control other parameters in the programme." "By combining this with another piece of software, the prop controller, we can control the material values, such as the colour and gloss, of the volumetric videos. In short, we can convert an entire song into a visual system that automatically moves to the music. In this way, the textures of the volumetric videos change according to the sounds in the songs." "This makes for very dynamic visuals that react to the audio input. In a way, this makes the volumetric videos interactive, which was previously considered impossible."
Image Source: 4DR Studios
Launch
This May, the virtual world of Future Static has been released and can be visited. Future Static is available for mobile and desktop. You can visit the website for more information. For the song 'Face of Value', a music video has been produced, which has extraordinary visual effects and a unique camera flow done using virtual production and volumetric video. You can watch this music video below. Apart from all the digital alternatives, you can also see Coloray live again! This summer see him at multiple festivals and clubs, including Eilan Festival.