The XR market has grown at a staggering pace over the past few years, and that growth rate is expected to not only continue in the future but to increase. Although the XR market was valued at $26.05 billion in 2020, Mordor Intelligence predicts that by 2026, its value will reach $463.7 billion — a CAGR of 62.7% between 2021 and 2026.
This growth has brought two things along with it:
An increase in XR usage among consumers and industries
Higher demand for XR developers and designers
Currently, XR is a land of opportunity. With a hot job market, the biggest question that XR-hopefuls will need to face is not whether they'll get a job, but rather which job they want to pursue: one in design or development?
Both paths are equally rewarding but take a different approach to XR. If we imagine an XR application as a building, the XR designer would be the architect who draws up the blueprints, while the XR developer would be the contractor who decides what specific materials to use and then puts them all together.
Deciding between the two can be a difficult decision as they are both essential to the XR-creation process. To start the decision process, you can ask yourself a simple question:
What Do You Like To Do?
It's very easy to get distracted by average salaries, market demand, and all sorts of other facts and figures that will make one or the other look better on paper. But life isn't lived on paper — it's lived in real life.
The reality of your future career in XR is that you will be doing your job every single day. If you don't like it, your salary may not be enough consolation.
Developer and designer positions tend to appeal to two different types of people with varying interests, so it's often helpful to bring the choice into the here and now by considering what you like to do currently.
In other words, are you attracted to fields like math, physics, and computer science? Or do you prefer psychology, architecture, working with people, and planning? Are you a detail or a big-picture person?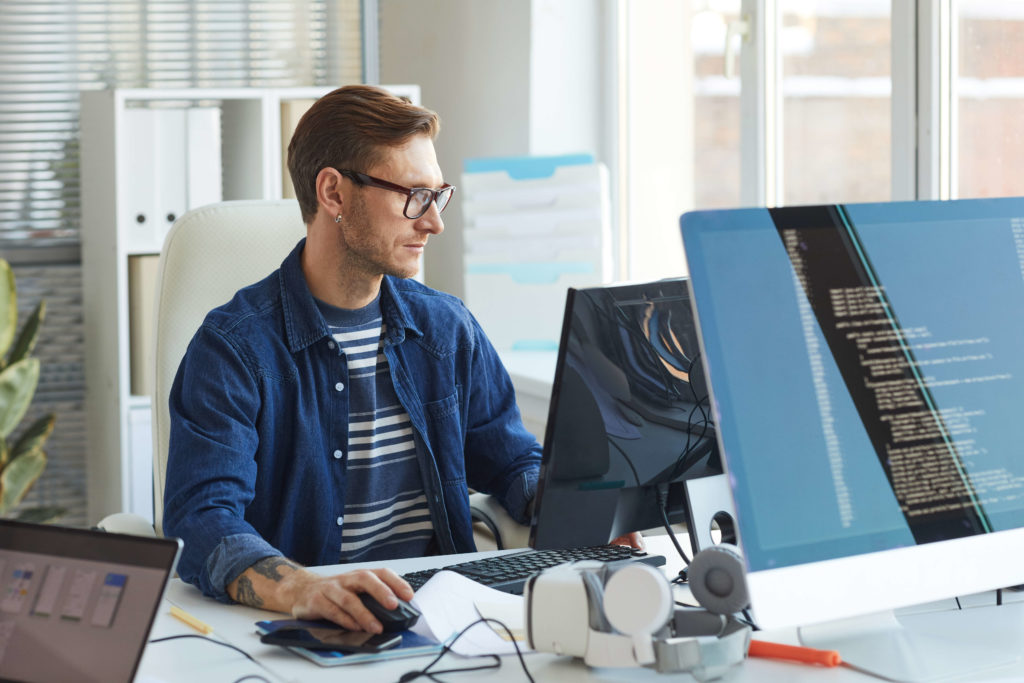 If you gravitate towards the former halves, you may be better suited to development: your day-to-day will involve working with code, resolving bugs, and wading through technical documentation.
If the latter halves are your preference, then design may be a better fit: you'll be spending your days identifying user pain points, storyboarding, and testing to find solutions that strike a balance between consumer needs and business goals. You'll be handing off your plans to developers who will implement them.
Regardless of which side you ultimately choose, it's important to remember that XR developers and designers rely on each other — remove one, and the project won't make it to completion.
The XR Double Diamond Process
To better understand how developers and designers play off of each other, we can look at the Double Diamond Design Process model: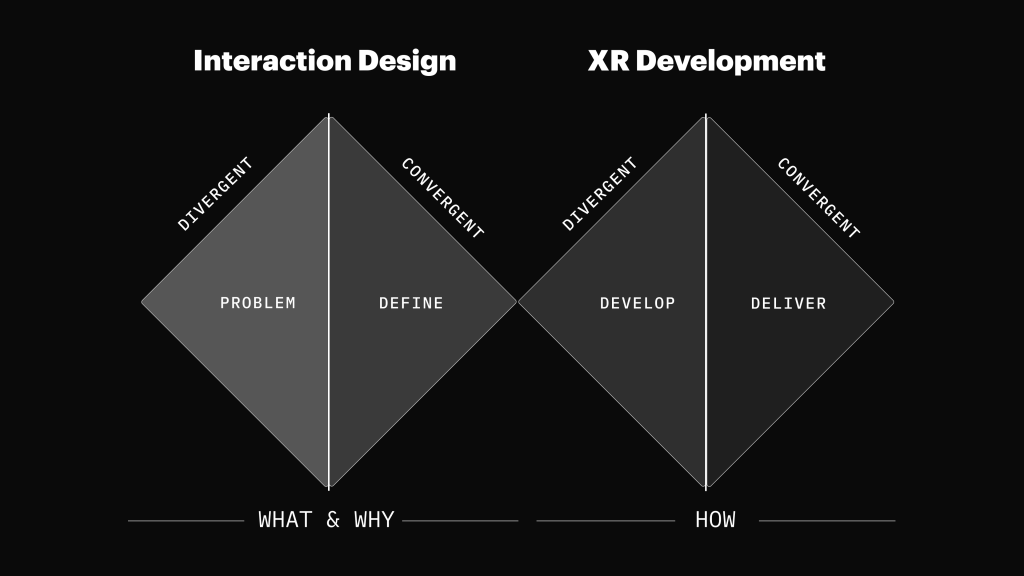 In short, the designer focuses on figuring out the "what"'s and "why"'s of the project, while the developer is tasked with figuring out how to make the designer's answers a reality.
The process can be broken down further into four distinct phases:
Discover: The designers do their best to identify what problems need solving. Essentially, why is this application being built in the first place? What does it need to do, and how will users interact with it? It is a process of investigation and discovery, in which designers attempt to understand the project from a bird's-eye view.
Define: Once the bigger questions have been answered, the designer begins to focus on the specifics: what should be included? Which features are realistic, which are most important, and which ones are a pipedream? Ideally, the designer should be focusing their investigation on the user's needs first and foremost.
Develop: At this stage, designers and developers start to work together. Developers will speak with designers about different options for implementation, and they'll also make them aware of which parts aren't feasible due to technological limitations. From there, the designers will integrate the developer's feedback and the discourse will continue.
Deliver: Once all the details have been squared away and the proper testing has been done, the product will be ready for rollout.
Originally, the Double Diamond schema was made for designers. However, it can also be applied to the collaboration between developers and designers in XR. In the end, the key takeaway is that both sides rely on each other: the designer tests, investigates and creates a plan, which the developer then brings to life.
Skills and Competencies Needed for XR Design and Development
Since both sides attack the creative process from different angles, the skills they bring to the table are different. Overall, the developer and designer skillsets and abilities can be broken down as follows:
Designer:
An ability to work with 3D environments and objects
An understanding of usability principles and techniques
Knowledge of information architecture and UX design
The ability to lead product development with wireframes, mockups, storyboards, and prototypes
An interest in making evidence-based decisions using both quantitative and qualitative data
Advanced communication and presentation skills
The ability to work across various teams
An ability to think strategically and contribute to strategic decisions
Problem-solving skills
Developer:
Coding skills, typically using languages like C#, C++, or C
Knowledge of 3D engines like Unreal or Unity
Ability to debug complex issues that span multiple components and system levels
Keep track of performance and work to optimize applications
Knowledge of technological limitations
Ability to read technical documentation
Develop 3D pipeline procession models

XR Job Market Insights
Here's the good news if you're interested in getting involved with XR: since the field is so new, most new hires only have one or two years of dedicated XR experience. In fact, the Snap Consumer AR Global Report 2021 found that 50% of AR developers have less than one year of experience.
According to Glassdoor and salary.design, XR design jobs typically fall under the following titles:
XR Designer
XR Product Designer
XR UI designer
XR UX designer
XR Narrative Designer
Interaction Designer
XR designer salaries typically range from $65,000 to $115,000, although this will depend heavily on your location, experience, and company.
For XR developer jobs, you can expect to find work under the following titles:
XR Software Engineer
XR Developer
XR Programmer
Base salaries for XR developers start at $79,000 per year. Depending on location, experience and company type, the salaries for engineers will often exceed $150,000 per year.
Summary
XR design and development are two integral parts of the creation process. Although they both tackle different problems, they ultimately come together to bring projects to life.
As you choose your trajectory, it's important to consider what you like to do, where your strengths lie, and what you can imagine yourself doing on a day-to-day basis. No matter which track you pursue, you will have many rewarding opportunities in today's growing XR job market.
Aspiring XR developers and designers can make use of high-quality educational programs that train students to work professionally in XR. Circuit Stream currently offers an XR Development with Unity course for developers and an Interaction Design and Prototyping for XR course for designers. To learn more in detail about different paths check the original Designer vs Developer content along with the educational structure.