Like many studios and organisations, we were aware of the benefits of incorporating VR into training programmes. Some of the different types of trainings that benefit from VR were and still are around soft skills training, maintenance and health & safety awareness. It is a clear connection, given the VR technology's capability to transport the user to other worlds and locales.
With roomscale and input controller tracking, learning by doing was an obvious use case for learners to get their hands into virtual worlds and onto assets safely or at reduced cost, having created many experiences to do just that ourselves for clients since 2014.
When we were introduced to Lloyds Banking Group in 2017, they were keen to understand how VR could help an organisation such as theirs with interpersonal, soft skills training, rather than turning a financial chart into a virtual rollercoaster ride.
With a number of locations around the country providing centralised training sessions for their employees, as well as a desire to get more learning materials into employees' hands directly in branches nationwide, we set about discovering together what VR training could look like as a pilot and at scale, using our usual mantra of 'start small and iterate up'.
The Trouble with Traditional Soft Skills Training
Soft skills training is nothing new, with various forms being carried out in meeting rooms and training centres across the world. There are various approaches, many involving learners carrying out dreaded roleplay or professional actors being hired for sessions, to help with authenticity. 
What many of the traditional forms of training suffer from however is a number of shortcomings to providing efficient outcomes or real, measurable benefits to learners, and the organisations providing the sessions, at their cost.
Objective Feedback
A lack of objectivity in feedback is one such shortcoming, it being difficult to provide granular, accurate metrics on performance or outcomes, with much verbal feedback being subjective, based on qualitative feeling and the experience of the trainer.
Cost of Scale
Another is the prohibitive cost of scale around soft skills training, which is typically one-to-one, or carried out within small groups, often with professional actors being hired. To provide greater scale, many actors are needed for a session to scale volume of one-to-ones or they are ever-present to provide sessions required over longer periods of time, to hit the desired number of employees to complete the training.
Consistency of Training
Whilst we are all human and fallible, through no fault of anyone involved, this then leads to an inconsistency of training and the learning outcomes across individual experiences of the sessions, with each roleplay or performance being slightly different. 
So how can VR help improve learning outcomes and enhance the experience for all involved with soft skills training?
Proof of Concept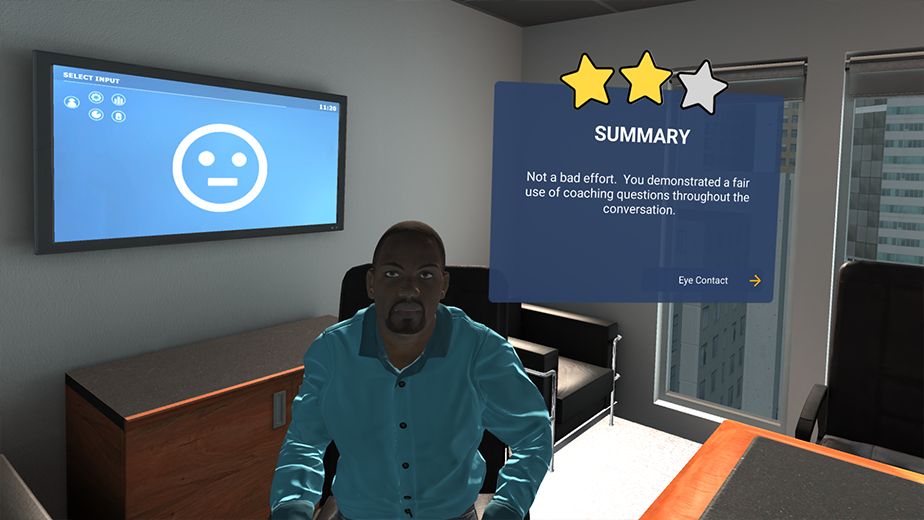 As is often the case for learning content providers, there isn't necessarily always an example ready to hand to validate a use case or prove effectiveness of a particular training requirement request, so we worked with Lloyds Banking Group to build a demonstrator for them to trial.
Each soft skills training scenario has some common, core components necessary that we needed to replicate within the virtual representation: characters, a specific situation, a narrative and expected outcomes, based upon the learner's performance and dialogue choices.
We took an existing training scenario, based around "a difficult conversation" and created a prototype, lasting approximately 5 minutes, as a test VR-based soft-skills learning experience. For speed and cost efficiency, a stock 3D model of a character, animations and generic office meeting room environment were used, with the voice-over recorded in-house, built around the branching narrative script we created, written from the existing materials provided by Lloyds Banking Group. This created 5 stages of dialogue with 3 potential outcomes depending upon learner decisions made.
A heatmap was recorded and presented to the learner at the end of the scenario as part of their feedback, showing their gaze from within the headset, of where they had been looking during the virtual conversation. This started the discussion around how VR could enhance the learner experience and provide quantitative data and discussions points afterwards.
As a proof-of-concept, we added some other dummy metrics to highlight data that could also be captured with additional wearables, such as heart-rate of the learner but also the simulated emotional states of the 3D character the learner interacted with, based upon the logic and outcomes of their narrative dialogue choices. 
This 5-minute demonstrator was then used to validate the use case for immersive technologies via user tests, between control groups of traditional and VR-based training sessions. The learner feedback was overwhelmingly positive around the use of immersive technologies and taking away some of those pain points mentioned above, for facilitator and learners alike.
First Full Project
Following on from the positive reception of the proof-of-concept experience, Lloyds Banking Group were keen to move onto a more challenging and larger topic and signed-off the budget to create "Personal Vitality + Resilience" VR training experience. 
With a proper project budget, the development went through our typical 4D process of discover, design, develop and deploy. Working closely with the learning and development team at Lloyds Banking Group, the 6 character personas were designed to be reflective of the diverse and inclusive range of employees within the organisation, staged within environments within the offices the learners would visibly recognise, around a scenario many have unfortunately found themselves within at some stage of their careers; rumours of change and redundancies within a wider organisation.
Due to the increased number of virtual characters and greater depth and length of the training material, the complexity of the branching narrative and dialogues increased as well. For this experience, 150 strings were linked together to provide a wider range of outcomes, based upon learner decisions, as well as the ability for the virtual characters to end the conversations early as a result of negative, un-empathic choices, with feedback and scores reflected accordingly.
This also required more believable character animation and lip-syncing tied to a larger volume of VO and simulated emotions, so we started to build our own toolchains around body and facial motion-capture tied to VO audio recording, linked to live 3D character animation processes, using HTC Vive Trackers and iPhone XR front-facing depth cameras.
On top of gaze heatmaps, virtual bodymaps of ego states were also shown as part of the feedback and replay system, allowing the learner to see the specific results of their choices and ultimately understand the outcomes of their behaviours towards their virtual colleagues. 
Feedback from learners was again overwhelmingly positive, and from the facilitators too, so much so that it was the first time Lloyds Banking Group reported having to operate a waiting list for attendance for access to the training content and sessions. Initial predictions from the L&D team stated that training cost savings were expected to be £150,000+ over a two-year period of delivering the sessions, compared to previous methods involving live actors and lower numbers of learners engaging with the material.
The 'Lloyds Banking Group – Personal Vitality + Resilience' VR training application was nominated for the AIXR – VRAwards 2019 ' Enterprise Solution' category.
Bigger and Better and Beyond
With the outcomes from the proof-of-concept and first full project being deemed a success in terms of learner engagement, improved feedback scores, reduction of training costs and an increased number of learners that could be reached, the next project was quickly signed-off for development and deployment towards the end of 2019.
'Relationship Management' is a soft-skills learning experience delivered across multiple training courses internally at Lloyds Banking Group, exercising a wide range of interpersonal and relationship skills as a product team leader. Across 4 key training scenarios, learners virtually build rapport with colleagues, customers and stakeholders by identifying each character's temperament and interaction styles. Modelled upon real world scenarios, learners are assessed based upon their negotiating style, delivered via a sophisticated and complex dialogue systems, and rapport, via eye-contact with a review and playback system.
Adding yet another level of complexity to the nature of the scenarios and dialogue saw the scripts increase in size dramatically to over 1,500 strings with ever-increasingly complex logic driving learner choices and character outcomes, on top of the body and facial motion-capture processes already created previously. 
As a result, Make Real has set about creating our own internal script-to-screen toolchains on top of these systems, wrapping it all up in a package called Dialogic, to streamline and smooth out the process from writer and learning designer to artist and developer. This is to reduce development complexity and therefore time and budget to continue to create increasingly complex soft-skills learning experiences, passing these cost-savings onto clients looking for next-level interactions and learning outcomes.
So far this VR training application has been deployed across x5 internal existing one-day training courses, reaching far and wide across the 175,000 employees of Lloyds Banking Group:
Building Stakeholder Relationships

Temperament & Interaction Style

Life is a Negotiation

Retail Accelerated Development

Commercial Accelerated Development
The 'Lloyds Banking Group – Relationship Management' VR training application has been nominated for the AIXR – VRAwards 2020 'VR Education & Training' category.

Other features of soft skills training we have created include elements of embodiment, based upon research carried out by Mel Slater, where the learner is able to swap bodies of characters to see the outcomes of their choices, hear the internal monologue responses and thoughts and begin to understand communication from the perspective of another person. These are enhanced with visual insights into a character's thought and responses as the learner progresses through the branching narrative dialogue tree accordingly. 
These enable empathy to happen, a key part of the learning outcome requirements for soft skills training, in fact one character in the 1st project became so popular with learners that he had to make a cameo in 'Relationship Management' in order to appease the audience. These courses are designed to create awareness within learners of how we communicate and interact with one another in the workplace during day-to-day interactions, to help make us all better, more understanding people, creating more pleasant teams to work in and companies to work for.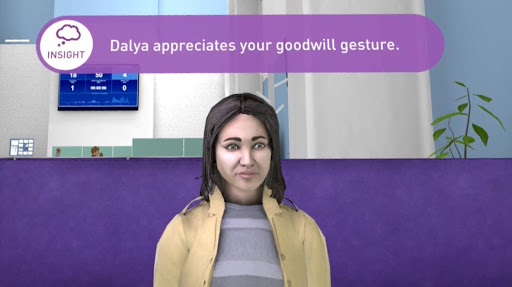 Lloyds Banking Group have become customers of Oculus for Business to purchase, manage and scale beyond the current 200 Oculus Go and Oculus Quest devices they have, currently deployed across their 6 centralised training centres nationwide.
They, and other clients of ours, are really embracing immersive technologies like Virtual Reality to see real world results and positive impacts on soft skills training. These include reduced time to train, training cost savings, increased learner engagement and improved perception of the organisation, by providing objectively measured, immersive learning experiences that take away the traditional pain of delivering and undertaking such courses.