For those passionate about
artistic

expression and media production.
The Arts & Media Advisory Group explores the art of storytelling, directing, producing and curating content. As well as, how new technologies are changing the landscape of creative media and how to make the most of them.
This group is perfect for anyone who wants to learn more about the film and media industry, whether you're a aspiring filmmaker or an experienced producer. Get insights into the latest trends in filmmaking, learn about new technologies and discuss the business of making movies with like-minded individuals.
Alternatively, apply to become an advisor if you have extensive experience in filmmaking or media production.
Members from:
Independent films
Narrative Storytelling
Producing & Directing
Media production
Content Curation
Museums & Festivals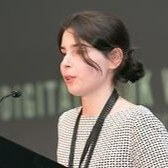 Susana Grillo
Independent Producer
Arts & Media Group Co-Chair
Susana explores the creative force that stories and fan communities provide. Through immersive stories she brings stories to life by connecting talented professionals that can collaborate with each other towards a cohesive results.
Michaela A. Ternasky-Hollando
Creator & Consultant, Metaverse
Arts & Media Group Co-Chair
With a background in journalism and film production, Michaela acts as a creative consultant, blending traditional media with VR, AR AI, motion capture, and 360-degree film. She helps brands create moving experiences with social impact.




To view the full list of group members, resources and followers, you must create and sign into a free AIXR account.
Free accounts coming soon
Distributing XR Entertainment effectively
Join or follow AIXR groups and understand your industry better.