Opportunities for immersive technologies in the airline industry
AR & VR is no stranger to the airline industry. In fact, the AR/VR market in aviation is projected to grow from $78 million in 2019 to $1,372 million by 2025. 
The technology is a great fit for the industry for a multitude of reasons; mostly that airlines have huge fixed costs (afterall, a plane is an expensive asset), so there is a great demand for increased efficiency/cost saving when it is possible. By applying XR to aviation functions such as manufacturing, maintenance, airline operations, aviation training, and many others, you can enable smoother operations that lead to huge cost savings.
At Neutral Digital, our focus is on creating high quality airline assets. In particular, we partnered with British Airways to bring their Airbus A350-1000 to life – celebrating the plethora of new features Business Class passengers could enjoy. This was originally a marketing asset for press events – but soon became much more.
"Virtual reality has transformed the way we showcase our product."
Daniel Taylor, Brand and Marketing Content Manager at British Airways, "virtual reality has transformed the way we showcase our product…VR provided us with an immersive way of bringing this new product to life and engaging both external and internal audiences. The project was initially built for press events and for our own crew familiarisation of the new product and layout. But we've since found it to be invaluable across the whole marketing ecosystem."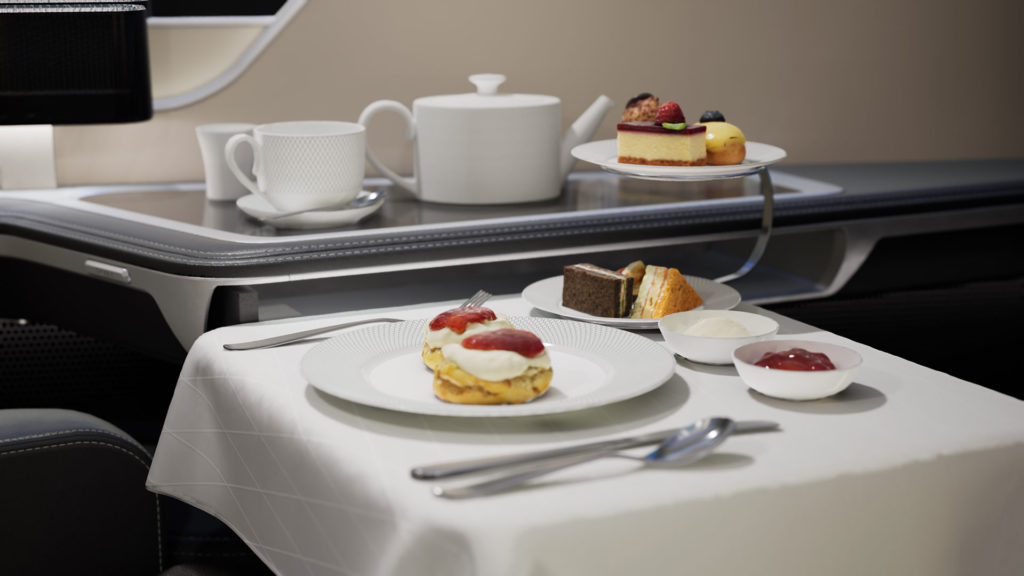 And it's not just marketing either, British Airways is now looking to diversify the benefits to other departments also. For example, using VR as a compliment to physical training activities, carrying an impressive 75% memory retention rate.
Seeing the reputational uplift brought by exhibiting their updated Club Suite product for the A350-1000 in VR, British Airways have shown a further commitment to this technology by creating a stunning interactive experience for First Class aboard their Boeing 787 aircraft.
How to Showcase the Brand 
British Airways were once again faced with the exciting challenge of how best to do justice to a glorious physical product, this time in the form of their First Class offering as seen on their Dreamliners, through their marketing. As part of a division-wide transformation of the way they showcase their brand, in no small part thanks to the celebrations surrounding their Centenary year, British Airways wanted to follow in the footsteps of their A350-1000 familiarisation and marketing project to create something equally spellbinding for trade shows, sales centres and PR touchpoints.
With VR fast becoming a mainstay across marketing, and extending its use cases into other pillars of the organisation, it seemed logical to once again pair a world-class product with a state-of-the-art medium. British Airways and Neutral Digital resumed their successful content partnership, creating a VR experience focusing on the quality and serenity enjoyed by First Class passengers in the skies. Staff and customers alike are now able to experience another luxury British Airways product in an involving and transformative way.
Creating hyper-realistic First Class experience
The primary challenge was to create an experience on par with the exclusiveness of a First Class experience, for this, we knew it had to be hyper-realistic. 
Recreating every small detail, from screws to stitches, folds and cracks on materials and hyper-realistic 3D scanned food while ensuring it performed occupied the majority of the project timeline. To facilitate this, we performed a full-day survey of the aircraft taking thousands of pictures of every individual element and detail.
But, creating hyper-realistic assets is not enough to make the user feel like they are there, in person. To aid that, we took a lot of care creating natural hand poses so every object could be grabbed from multiple places and the hand would naturally adapt. To speed up this workflow we developed a system allowing the artists to author poses, in editor, directly on the objects so they had a real time preview of how the hand was going to behave. Alongside this, was the ability to blend between poses, which not every user would notice, but would definitely feel — just one of the small details that adds to the immersiveness of the experience.
As well as hyper-realistic VR experience, the client required a 'visualisation mode' allowing British Airways' marketing and content teams to capture and share stunning, high-quality real-time images within a huge variety of editing parameters. For this, we relied on some of the built-in UE tools, but, mainly the skill and craft of the artists that painstakingly recreated every detail.
Another challenge was UX, specifically how to present the VIP Lounges which required a navigation method that was intuitive but felt innovative, fresh and most importantly luxurious. For this, we placed a premium leather travel wallet in the hand of the user allowing them to pull tickets and VIP cards to access the various rooms and spaces.