Augmented Reality (AR) and Virtual Reality (VR) are widely spoken about as the future of visual technology. Both have been growing at a rapid pace across a wide range of sectors and have recently crossed the threshold into a £1bn industry, with thanks to an astronomical boom in video game sales. The figure is expected to see continued growth, as the number of virtual reality headsets sold over the next two years is predicted to reach 200 million. However, recognition cannot be solely awarded to the entertainment sector. Key applications for the technology are also being utilised in other industrial environments such as; retail, leisure, automotive and aerospace to name a few.
While most industries have embraced VR and AR and can see their real potential, certain sectors have yet to realise the opportunity they can provide. One area where this innovative technology is yet to be fully explored is within recruitment, even though it is highly likely to bring real value.
Given how complex and competitive the contemporary job landscape has become, something that has been covered in the past on AIXR, recruiters need new tools to ensure their competitive superiority. Cutting-edge technologies like AR and VR can make a tangible difference – streamline systems, build engagement, and make selection smarter, simpler, and faster. 
Streamline Recruitment
Despite each agencies' goal to win the war on talent, companies are heading into battle over the best candidates and the most sought-after skills. One way to attract the most experienced talent is to add an entertaining, vibrant and exciting element into the recruitment process. Gamifying recruitment through VR is sure to set you apart from old application processes and position you as a smart and innovative recruiter.
Becoming a forerunner in the digital world will attract the premium candidates who are eager for new and advanced experiences.
Interview and Selection
Many non face-to-face interviews are conducted via video platforms such as Skype or a hangout meet. While this is effective and practical, nothing replicates being in a high-pressured interview scenario versus answering interview questions in a more relaxed, remote setting. If we instead conduct an interview in VR, employers will gain new insights into an individual's ability to cope with a pressurised interview room setting. This would allow companies to make more informed hiring decisions.
Global consulting firm 'Accenture' have explored using AR and VR to test the aptitude level of prospective employees. In an extreme but very exciting method for recruitment, the firm immerse their interviewees in an Ancient Egyptian Crypt to test their problem-solving skills and crack a hieroglyphic code. Using immersive technology as a recruitment and selection tool results in more natural responses, giving the firm a more accurate insight into how they might behave, once they join the company.
Virtual Office Tours
While most potential recruits are interested in the role and company culture, the office setting also plays a key part in their choice of joining a new business. Imagine being able to provide an immersive look inside your business space. Candidates could take a virtual tour of the office, see where they would be sitting and observe the life-like simulation of a normal working day unfolding around them.
Access to this kind of technology would speed up the hiring process tenfold. Individuals could decide if the office environment is right for them prior to a face to face interview, to ensure no time, money or resources are wasted. There are huge efficiency savings to be made here.
One organisation who have effectively implemented this idea are Compass Group, the world's largest contract foodservice company. With over 500,000 employees the business developed an immersive VR video to attract students at graduate fairs. The future workforce of the company was able to take a virtual tour of the workplace using a Google cardboard headset, which gave them the option to appear for a video interview.
The experience gained great traction at the events and was used in recruiting for graduate roles across the Compass Group.
The British Army present another example where VR has been successfully utilized in the recruitment process. Combat, adventure, parachute and tank training were recorded and uploaded to YouTube 360, candidates were then provided with a VR headset to experience the training first hand. The access to this immersive experience was well-received, the army saw a 65% increase in applications in the first month and 41% in the second month.
Training and Development
AR and VR have the unique ability to create a truly immersive environment, where individuals can experience real world, sometimes life-threatening, scenarios that can't be replicated within a regular training room. A great example of where this is put to use is by immersive simulation company XVR who have developed a VR and AR platform which is used specifically for emergency, safety and  incident response professionals.
Immersive simulation is not only useful for high-risk training (E.g. the military or firefighting) but can also be used to develop coping mechanisms by putting attendees in high pressure situations.
By applying real-life theoretical lessons during the virtual experience, users can enhance their strategies to improve both their career related abilities and personal skills.
Adopting this type of training is more cost effective for companies, as an instructor is not needed in each location for the VR/AR training programme to commence. The trainer can be in one location whilst the trainees can be anywhere in the world (if they have access to the VR headset). The investment into the technology and headsets that come with it, can be very quickly earned back through the cost savings from trainers and travel to training locations.
Immersive training environments have been found to be linked to high engagement levels and therefore more impactful. Studies have shown that more information is retained when the person's senses and emotions are stimulated. VR allows the business to reach employees in new situations that wouldn't have previously been accessible to them.
A similar concept can be used to allow recruiters to become more well-versed in interview situations. Using VR, the employer can learn to read body language, facial expressions and evaluate the candidate's skill sets. The possibilities of immersive technology are endless.
Capability Assessment
AR and VR can test an applicant's ability to endure difficult circumstances, pressure and other complex situations. Virtual capability assessment is used to screen those who are unfit for stressful situations.
For example, Gorillaz's mixed reality app was used by Jaguar Land Rover to assess the talent of engineers. Candidates were asked to crack a code in alternate reality format using the immersive app, which allowed the recruiters to watch on and analyse as they worked under pressure.
Onboarding
According to research by Aberdeen Group, the decision to stay in a company is made within the first six months of the role. So, it is integral that new employees are given the best onboarding experience as soon as they are introduced into the business.
This could be achieved by means of adapting the induction process to include VR. Employees now have the opportunity to experience the policies of the organization virtually – values, ethics and culture can be deeper explored than previously in printed induction booklets.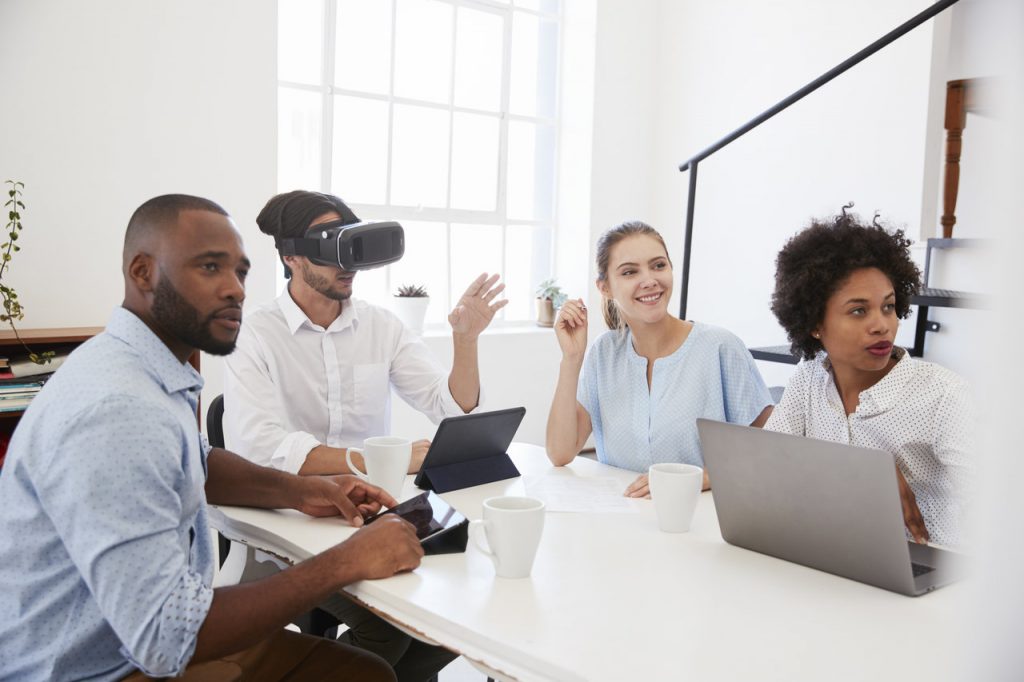 VR is also advantageous for familiarising personnel to high-risk jobs. For example, the emergency services can be immersed into extreme situations such as a large burglary or fire. The virtual environment poses no real danger but provides individuals with a realistic view of what their career may look like.
How Immersive Technology is Changing the Landscape for the Recruitment Industry
Utilising Augmented and Virtual Reality technology for the hiring process can lead to a more engaging and immersive experience for potential recruits. It can also give companies an edge over their competition by providing the opportunity to attract and hire the best individuals for their firm.
Rather than relying on traditional competency based interview techniques, using immersive simulation as part of the selection process can give companies more of a detailed insight about how potential recruits will perform in 'real world' scenarios that traditional competency based interviewing cannot compete with. 
As the VR and industry continues to expand, the skills shortage will continue to increase and standing apart from the competition will be paramount. Providing potential hires with a fully immersive experience at hiring stage will give companies an edge over their competition by providing the opportunity to attract and hire the best individuals for their firm.
The companies who implement VR and AR into their recruiting and hiring and selection process will undoubtedly gain a significant advantage over their competition and be able to attract the best individuals that exist within the marketplace.
Overall, the future looks very bright for the immersive industries and looks set to have a major impact on the recruitment industry in the future.
Looking to find out more about the future of recruitment? Check out FourPointZero here.