With more than 300 locations in 25 countries spanning Europe, the Middle East, the Asia-Pacific region, and North and South America, Munich-based HOLOGATE continues to be the world leader in virtual reality multiplayer systems. Earlier this year, HOLOGATE logged two million players in less than two years, and its counter is steadily increasing at a staggering rate of roughly 350,000 visitors per month. HOLOGATE is one example of a company reaping the rewards from the ever-increasing popularity of Location Based Entertainment. 
Location Based Entertainment (LBE) is one of the immersive technology industry's fastest growing sectors, we've recently seen Rupert Murdoch invest $20m in the Void, while Dreamscape Immersive, launched in 2016 by former Dreamworks Executives, has raised a huge $36.7m through Series B funding. Analysts predict that player numbers will continue to rise in the next year with some calling it "the next phase of Immersive Entertainment." 
So why are investors committing to LBE companies despite the wider trend of investors moving away from VR enterprises? We reached out to HOLOGATE to get some insight into the reasons behind the sector's rapid growth and the key features that make for a great LBE experience.
What makes a great LBE experience?
Leif Peterson, CEO, HOLOGATE:
Discovering the "formula" for great LBE experiences has been quite the exciting challenge.  Not only are we tasked with coming up with what we felt could make for a game that was fun and had replayability, but also we are developing for virtual reality, which brings a much higher level of complexity. 
Although the general awareness of virtual reality may be increasing, many people have negative opinions and misconceptions about VR and these ideas rarely come from actually experiencing the technology firsthand. Rather, people are quick to make judgements without trying out VR at all. 
One of the misconceptions is that virtual reality is always an isolated experience. While some experiences can be, HOLOGATE always encourages social gameplay through our multiplayer capabilities.  Every player can see every other player's avatars and communicate through our partner's TeamSpeak technology that is integrated into every HOLOGATE system. 
Since most people may be experiencing virtual reality for the very first time on a HOLOGATE, we follow Nolan Bushnell's (Founder of Atari) "easy to learn, difficult to master" law.  We design our game controls and gameplay to be incredibly intuitive so that we eliminate the intimidation factor for first time virtual reality users, they are immediately immersed and engaged. From a wider perspective, first impressions of virtual reality experiences play a crucial role in the widespread adoption of VR technology, an engaging experience with intuitive UX is more accessible for first time players, and in turn, is more likely to 'convert' these players into exploring VR further, long after the LBE experience is over. 
'Angry Birds' is our first partnership with a licensed property.  For the past few years, we have exclusively developed our entire library of games in-house so this was a big change but also a very positive step forward for HOLOGATE. One of the key things we found while working on Angry Birds was that the development process was protracted with a number of additional moving parts compared to developing in house, working with a globally recognised lisienced property is considerably more difficult as the IP holders need to approve the concept and various iterations throughout the production process. 
In order ensure clear communication and manage expectations for the client, we created a GDD (Game Design Document) that represents all of the ideas discussed by both parties, defines the vision of the overall project, and breaks down the production into manageable tasks that the entire team can follow. 
What's behind the LBE sector's rapid growth?
Gregg Katano, VP Strategy & Growth, HOLOGATE:
As we have now seen, the projections and expectations of virtual reality from 2014 didn't quite end up being today's reality. People were promised a revolutionary technology that would transform the future of entertainment and fundamentally change the way we live and work, though these optimistic predictions in and of themselves aren't entirely unrealistic, the thought that these changes would happen instantaneously was short-sighted. Similar to the latest stereoscopic 3D wave during the early 2000s, there has been the absence of distribution solutions or "touchpoints" for the consumer in their homes.
Many early VR developers launched their companies or embarked on their high-budgeted productions with the expectation that the HMD distribution pipeline to consumers would materialize. The most obvious hurdles to this "touchpoint" being the high cost of the headsets and computers, and lack of consumer awareness and/or accessibility. For us at HOLOGATE, the location-based entertainment model seemed like a natural solution to the issues of cost and accessibility. 
If the consumer wasn't ready to invest the money for a HMD/high powered PC combination for their home (or even at minimum at lower cost wireless HMD), then we need to be the distribution solution and find a way to bring it to where the consumers are.  We worked with our North American distributors, 'Creative Works' and started introducing HOLOGATE to the family entertainment centers.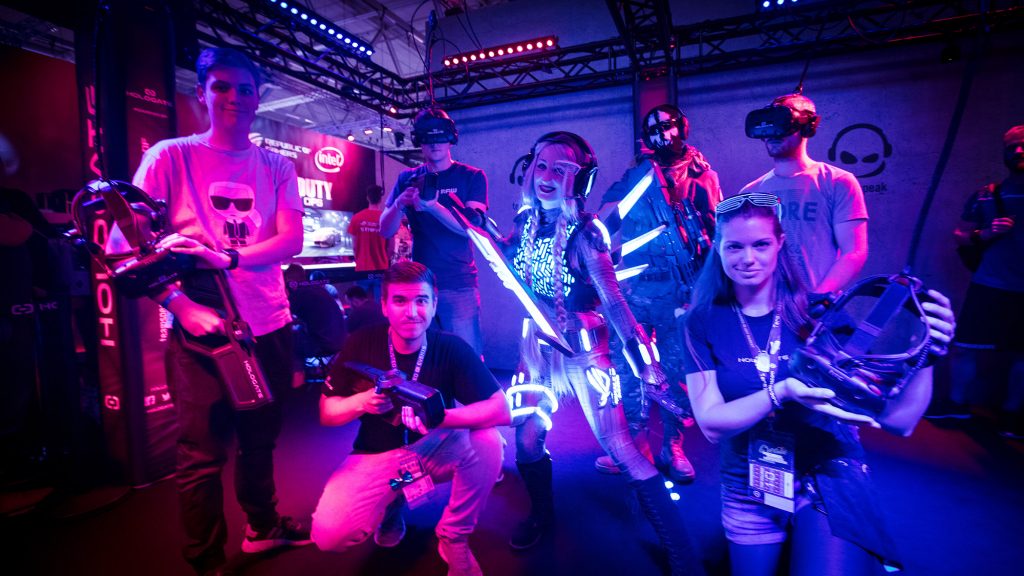 Soon after we launched, the consumers that were coming to LBE centers for laser tag, go-carts, bowling, and trampolines were "discovering" HOLOGATE aka "their first taste of virtual reality".  They immediately realized that virtual reality was unlike any experience they had ever had and they were hooked. The key thing for us, is that people were having great first experiences and they didn't need to make a huge upfront investment. In this context, LBE poses a solution to some of the growing pains or barriers to entry that the VR industry is facing. 
In short, the LBE sector for virtual reality is growing at such a rapid rate as it's one of the most accessible and low risk options for consumers as virtual reality is still finding its footing within home adoption.