At Entropia, we're constantly in pursuit of better ways to communicate. So, in November 2019, we launched Entropia Extended Reality (EXR), strengthening our experience design offering and injecting creative campaigns with the immersive technologies of augmented reality (AR), virtual reality, (VR) and mixed reality (MR) across our blue-chip client base in South-East Asia.
In the same year, we acquired the 360-video business from award-winning Singapore-based Virtual Reality (VR) company, VOSTOK VR. Considering the ever-evolving technology has revolutionised our online experiences in the last few years – from browsing, to playing, shopping, and learning – our offering is aimed at enabling brands to engage with both existing and prospective customers in real-time through unique, customised experiences like immersive storytelling, product visualisation, virtual customer service, extended reality (XR) commerce, and much more. 
As Asia moves towards the Fourth Industrial Revolution, smart cities and 5G networks, Entropia Extended Reality (EXR) is in a perfect position to both illustrate challenging concepts to lay-persons and experts alike, as well as to be at the core of the solutions required. Extended reality is tangible, immersive and barrier breaking, and the Galeriku project presented us with an exciting opportunity to reimagine the history of UMW Holdings Berhad – one of the largest industrial enterprises serving the economies of Malaysia and the Asia-Pacific region.
UMW Galeriku – A Museum Like No Other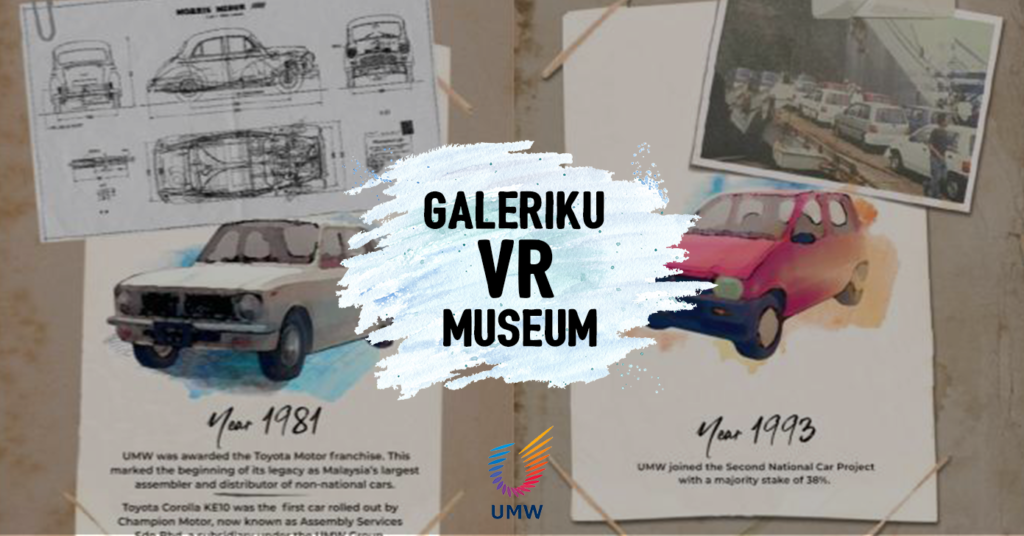 In 2006, UMW Group established a physical museum in Malaysia to showcase the company's corporate heritage, history, progress and growth – from its humble beginnings in 1917, to its present-day status as an international, public-listed conglomerate with global interests in the automotive, aerospace and engineering industries.
Located at the company's headquarters in Shah Alam, Malaysia, the 4,521-sq-ft gallery was the pride of the group, frequently visited by both local and international stakeholders. Amongst other things, it housed a Toyota Corolla KE 10 – the first model assembled by UMW in 1968, the first Komatsu bulldozer, and many other artefacts, including the founder's diary, pictures of his home, study, shop, and more items from his days starting out. Above all, the space paid tribute to UMW's many pioneers – its honoured customers, principals, shareholders and business associates.
In 2019, the company's decision to discontinue the physical gallery, and to relocate the exhibition to a digital home, sparked the search for a solution to keep their 100-year heritage alive. Not only for their stakeholders' viewing pleasure, but also for posterity, to explain changes in technology, and to display UMW's development from small-town auto shop to a solid, disciplined and professional organisation with a distinct corporate culture, built for longevity.
Merging UMW's Past With Its Future
As a trusted partner on a previous virtual reality project, UMW called on Entropia to assist, and we recommended recreating the gallery in VR, serving as a marketing tool, talent attraction, investment and stakeholder showcase, but most importantly, as a symbol of how a corporate legacy can be kept alive using technology.
The UMW Galeriku VR museum is a result of more than 60 days of meticulous research to perfect the outline of the main concept in VR, and another month to polish the details. While the physical objects were fairly straightforward in terms of modelling, the recreation of the 1920's milieu of the founder's study, his typewriter, his radio, and many more items had to be reimagined using just images and references from archives. 
Another 3000+ hours went into building the experience itself to create a hyper-realistic VR setting, ensuring the user flow was designed to make the journey intuitive, matching the pace of the user through time. Most importantly, the design had to be modular and scalable across devices in the coming days. 
As with the physical museum, the flagship experience was to be housed in the company's corporate headquarters, however, it would also be showcased at offsite events, schools, as well as multiple UMW factories and offices. Hence, we tried to achieve a high degree of replication by keeping the polygon count low. Ultimately, we managed it within 1 million polys per scene – just 20% of what we would typically do – which made it easier to transfer into an Oculus Quest experience.  
An Immersive Experience Like No Other
The entire interactive, immersive, audio-visual experience consists of a meticulous recreation of the UMW founder's study and elements in his diary to tell the tale of how a simple man from a small town created his conglomerate. Complementing the cosy, vintage study room setting, we added wooden furniture – from the bookshelves, to the table and chair – with gentle, natural light beams filling the space. We also ensured users have the six degrees of freedom to move through UMW's memories by flipping through the founder's diary, and teleporting from one scenario to the next.
From the moment you put on the VR headset, the simulated experience evokes a sense of immense nostalgia as you immerse yourself in the group's most significant moments and interact with some of the founder, Mr Chia Yee Soh's favourite items: books, an antique typewriter, radio set, and clock, and a globe to show UMW's key plant areas. 
Furthermore, the experience also features a massive coffee table book on the wooden table. Upon opening the book, users will find some of the founder's key quotes, strategic partnerships, as well as key vehicles featured in the UMW stable of products – the first Toyota Corolla KE 10 assembled by UMW in 1968; the Perodua Kancil 1993; as well as the first Komatsu bulldozer, which was part of UMW's distribution in 1965.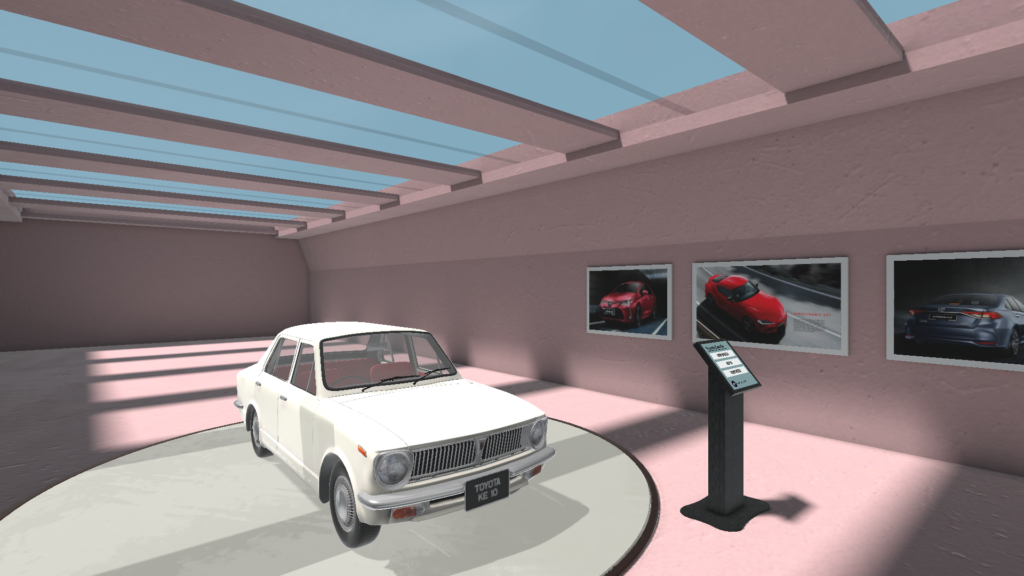 With the aim of capturing the user's attention from start to finish, the entire interactive extended reality experience takes 20 minutes to fully explore.