About Kraken Unleashed and Figment Productions
Figment Productions has been producing award-winning VR content since 2016. Figment is best known for creating Derren Brown's Ghost Train at Thorpe Park, a fully immersive, multi-stage VR and live action experience, which opened to the public in mid-2016. The same year, Figment also created Galactica at Alton Towers, this was the world's first roller coaster dedicated to VR. Figment went on to produce additional content for Derren Brown's Ghost Train in 2017 and created The Great Lego Race, a VR rollercoaster experience now open at several Legoland parks around the world.
It was the success of the Galactica VR rollercoaster, running on Figment's proprietary hardware and software solution, that caught the eye of the SeaWorld Orlando team. They saw the potential for a similar experience with the legendary Kraken roller coaster at SeaWorld Resort in Orlando.
Kraken Unleashed was launched in June 2017 and was shortlisted for the category of Out-of-home VR Entertainment of the Year in 2018 at the second annual VR Awards. 
How Does a Roller Coaster Work?
It may seem a strange place to start, but to better appreciate the challenges we faced and the decisions we made during production, it really helps to have a good understanding of the mechanics behind how most roller coasters work. 
In the case of Kraken, which is a traditional steel framed, floorless roller coaster, guests board a craft comprised of 8 rows with 4 riders per row. This craft is then hauled up into the air via a heavy-duty chain to the top of the lift hill. Once the centre of gravity for the craft tips over the top of the lift hill, there's only one thing that gets you back to the ride station – gravity. So far, it all sounds simple; one craft, eight rows and a bit of gravity.
The Influence of Real-world Physics on the Production Process
Producing content for VR has its own set of challenges as it is, but producing content for a 50m high, 65 miles per hour rollercoaster is something else entirely.
Figment have a rich history of producing work for projects with non-standard formats, whether that be through projecting content across all sides of an intricate 3D printed castle or running animations on underwater screens. When we approached our first VR roller coaster project we did so with a certain degree of confidence about what obstacles we would have to overcome and how manage those obstacles. However, there was one challenge that needed quite a bit more thinking about than we had anticipated, and that was the impact that real-world physics has on a rollercoaster and therefore on how we needed to produce our content.
We've already talked about gravity, which itself is a constant force on the rollercoaster. What is not constant, however, is the number and constitution of the guests. Having a craft full of adults will cause the craft, and therefore our content, to run at a faster rate. If the craft is half full or if there are more children on the ride, each will run at a different speed entirely. And it's not just the weight of passengers that has an effect, temperature and wind speed and direction also introduces unpredictable variables. We needed to find a way to implement these elements into our experience. 
We found a solution in the creation and development of a custom playback system, this system varies the playback speed of our content, as well as dynamically reacting to the changing conditions. In order to support our variable playback system, our content would need to be produced at a minimum of 60 fps in order to maintain smooth playback.
In addition to this, other factors, such as the physical offset of guests from one row to another, would mean that that we would need to produce multiple versions of the content to work with each row. Even though the craft moves as one, follows the same track and turns at exactly the same angles, each row experiences these shifts at different times and at different speeds. This is due to the fact that the centre of gravity for the craft is constantly shifting. To avoid the need to produce our content entirely for each row, we identified parts of the ride where we would be able to blend between row-specific content and our master content.
Non-standard Approaches to Production
Now that we had a plan in place for tackling the specific technical challenges of the Kraken rollercoaster, we could confidently move onto the creative content production. We received a good deal of direction from SeaWorld right from the offset, the key element was that this experience was going to be an underwater adventure with guests sitting in their own submersible. We were also guided with the inclusion of the titular character: the Kraken. This allowed us to be fairly targeted in our approach to the narrative and to plot out the scene progression.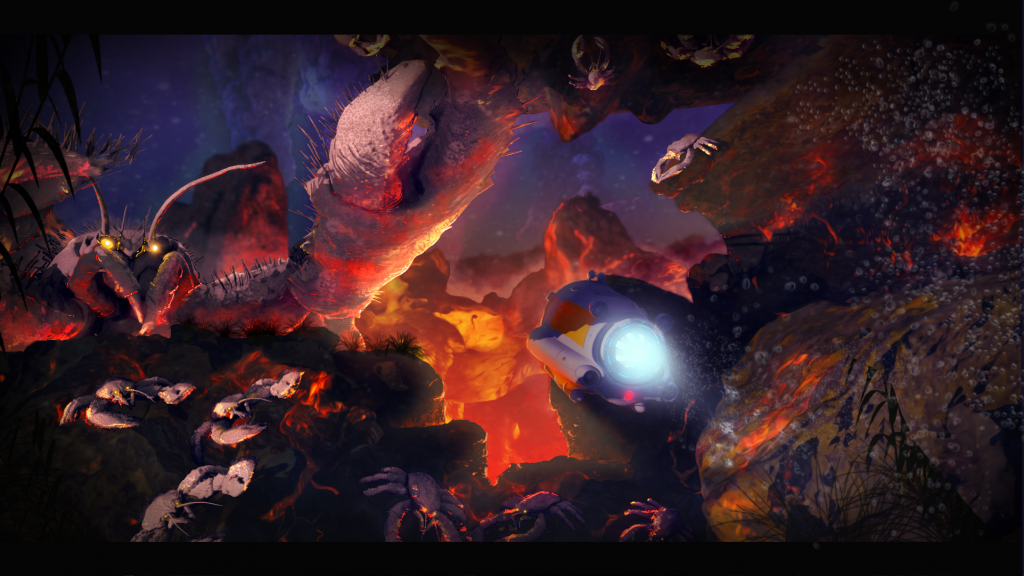 This is the point where we had to drastically adapt our production workflow from what you would usually expect when producing linear CG or video content. Although we did produce numerous pieces of concept art which would be a standard part of pre-production, we opted to forgo traditional storyboarding.
There were several reasons for this, the primary reason being that our camera path had already been mapped out for us. The steel of the rollercoaster wasn't going to bend and the path it takes was going to have to be the path our camera took as well. We also knew that we would be producing one, 3-minute, continuous shot and that at no point would we be cutting or using any kind of specific framing. That alone made the key benefits of storyboarding redundant.
Our previous experience creating roller coaster projects was crucial in the development of Kraken Unleashed. With our previous projects, we always started with the rollercoaster itself, we opted to follow that tradition with this project.
Travelling to Orlando and Matching our Virtual Experience with the Real-life Equivalent
We travelled out to Orlando and carried out track-mapping using our own in-house equipment. Our kit, which contained a number of sensors, accelerometers and gyroscopes was attached to the ride and enabled us to extract a digital path. With this in hand, along with detailed plans supplied by SeaWorld, we began to examine the physical movements the roller coaster made.
Working in parallel with the narrative development, we delved into animatic production. Once we had a top-line written concept approved, and had agreed the environments we would be exploring, we spent a number of weeks on-site in Orlando performing rapid iterations on our animatic, which ran dynamically in Unity. Every evening after the park closed we were granted access to the ride, where we would spend hours riding with our development kits to experiment with what did and did not work when it came to the on-ride VR experience.
We discovered that with a VR headset on, your body is only able to easily detect acceleration and directional change. It proved virtually impossible to detect the degree to which one was turning or moving. Over the course of 2-3 weeks, we experimented with increasing the distance that we move in our virtual world and the degree to which we make turns. In some instances where we wanted to keep content in shot, we changed 180 degree turns on the physical track into much shallower turns in VR. We were even able to turn a loop de loop into a hump without it being uncomfortable.  We came away with a clear vision for what the Kraken VR experience was going to be and could, with confidence, begin full production back in our UK studio.
Those weeks proved to be the key to the production's success. And although the remainder of the project brought up some interesting challenges, it was the work done in the pre-production phase which gave more meaning to the Benjamin Franklin adage "fail to prepare, prepare to fail" than on any other project.
To read more about LBE VR, click here to head down to our Insights LBE section.