IP for the Metaverse Course
Introduce yourself to the concept of intellectual property protection in the metaverse, an understudied legal area of our immersive future that is sure to shape the ways that business is conducted.
Andreea Carlan
AIXR Trainer
Overview
This course has been built to introduce businesses and individuals to the concept of intellectual property protection within the Metaverse. The course contains an insight into various types of technology transfers and the ways that these concepts will shape our future.
Develop a clear understanding of the steps to take when filling for asset protection.

Gain practical skills in Intellectual Property protection.

Develop a toolkit to protect Intellectual Property Assets in Metaverse.

Evaluate how the concept of technology transfer shapes our lives.
Syllabus
This course provides you with a complete toolkit to take forward and apply to your own metaverse organisations, ensuring you are well-placed to sell products/services and organise events within the metaverse.
M1 - Welcome & Overview
Within this module, users are introduced to the learning content and objectives found within the course and our course leader, Andreea Carlan. The module will conclude with a discussion to help you make the most of the course.
📚 In this module:
Introduction to the learning content
Agenda outline of the key modules and what they will include
Outline of the key learning objectives and takeaways to focus on
M2 - Trademark Definitions and Functions
Users will be introduced to the concept of a trademark. Definitions will be outlined, and the ways that metaverse organisations can protect their trademarks will be discussed. A trademark infringement case study will be presented, with relevance given to infringement in the metaverse.
📚 In this module:
Module Introduction
What is a Trademark?
Definitions/Functions
Protection
Infringement
M3 - Copyrights
Users are presented with the concept of copyright. Ownership of copyright is discussed alongside the transfer of international copyright and licensing. The module concludes with the presentation of case studies involving NFT use cases and the concept of 'open source' distribution.
📚 In this module:
Module Introductions
What is Copyright?
Who Owns Copyright?
Transfer of International Copyright
Licensing and Terms
Case Study: NFTs Use Case
Case Study: Going Open Source
M4 - Designs
Users are given use cases for VR across multiple sectors that they are likely to encounter throughout their daily lives. These include Entertainment, Healthcare, Marketing, Education/Training, and Enterprise. This module concludes with a short quiz to ensure a broad understanding of the cross sector impact of VR.
📚 In this module:
Module Introduction
Design and Metaverse IP
Registered Designs
Protecting and Enforcing Unregistered Designs
Infringements – Examples and What to Expect
M5 - The Future of IP within the Metaverse
In this closing module, users will be presented with some of the legal roadblocks that are yet to be faced, and the impact that the metaverse will have on global brands. Career and business opportunities will be shared, and additional resources in the form of potential communities to expand knowledge will be highlighted.
📚 In this module:
Module Introduction
Challenges and Predictions
Career and Business Opportunities
Recap of Learning Objectives
Additional Resources, Links and Information
Instructor
AIXR instructors are real-world professionals, with practical day-to-day experience in metaverse industries. The Academy works with instructors and advisor members to verify and further develop content to ensure it's employer ready.
Andreea Carlan
Trademark Attorney, McCallister Olivarius
Andreea Carlan was chosen specifically to develop and lead this course. Andreea is a practising trademark attorney with McCallister Olivarius, and has been working in IP since graduating from the University of Law in Romania.
She is a highly experienced and educated expert in the field. Andreea has made this course suitable to those working at all skill levels within XR and the Metaverse, with the course suited to those with an interest in copyright/IP.
Certification
Certified by leading professionals and organizations in your field, AIXR certificates are recognised by top metaverse employers. Advance your career and remain competitive in the job market by demonstrating your expertise and experience, giving potential employers confidence in your abilities.
Questions
Q: Do I have to pay for a course?
Create an account for free to access a range of courses and community features, or upgrade to a monthly plan for unlimited library access.
Q: How long does it take to complete this on-demand course?
This introductory/intermediate course is designed to be completed at a self-guided pace over 3-5 days.
Q: What additional content do I get access to?
You also get access to a wide range of, templates, mentors, networking tools and industry events related to the course materials.
IP for the Metaverse Course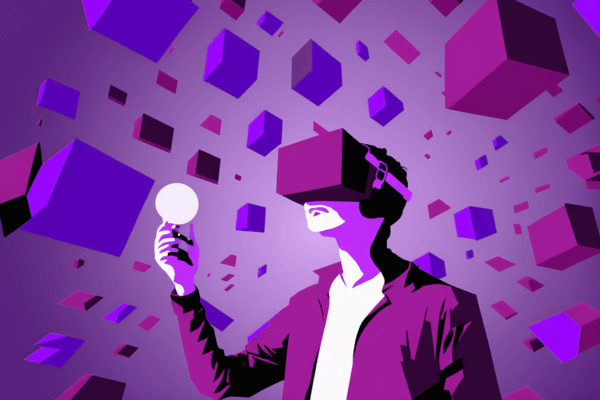 Industry backed ceritifcate